MES Implementation
The Complete Guide
Learn about how to approach the implementation of a Manufacturing Execution System, or MES project. In this complete guide you'll find the information and specifics on what you need before taking the leap, what are the best steps to follow, and much more.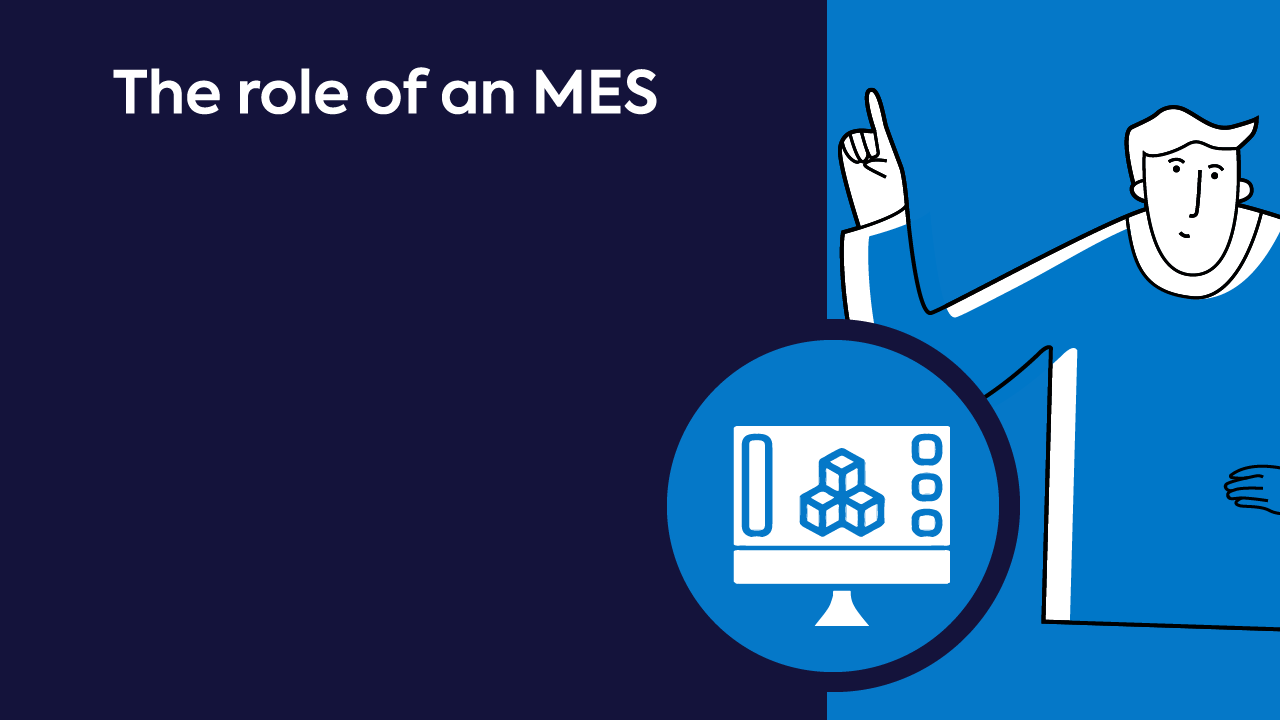 What is MES implementation?
MES implementation is a gradual process. Most companies will often wait a long time before thinking of integrating an MES in their workspace, because they believe it to be a daunting process. However, setting yourself up for success, in terms of planning the integration's successive steps, significantly reduces the complexity and disruptions than could arise. No matter if you're looking for a basic or specialized MES, every project will require some form of configuration and fine tuning for you to get the most out of your solution. Planning for configuration is beneficial in making sure you know what can and what needs to be connected, how to connect it, and how to maximise data extraction to your advantage.
What are the steps of a MES implementation plan?
There are a few things to consider to secure a strong foundation in an MES implementation project. While some steps can prove to be timed differently, it's important to remain agile and evolve with the solution. The following points aim to serve as a guide to what is typically sought out to ensure a successful integration and the development of a long-term partnership.
Identify a project scope and users requirements
The scope of the project will define the overall expectations required in implementing and matching solutions to deliverables. The MES will serve as a centralized hub to understand exactly what happens on the floor during manufacturing. It is crucial to plan what exactly you will want to connect and track, and if you have systems that are predisposed to connect.
Build an internal project team
The outcome of a successful project depends on the strength of the team. It is crucial to choose a team to lead and serve as the main point of contact with an eventual integrator. These champions are often a small group of professionals that are familiar with the everyday scenarios and needs of the factory floor. These digital professionals then offer to facilitate the foundation and continuous decision making within the scope of the project.
Find an implementation partner
There are a few types of integrators to choose from. A tempting first choice might be to look into a license firm that may offer premium rates for licensing without integration. These sellers will typically be authorized resellers that discuss your needs to set you up with an MES but will not play any part in the actual integration project.
Specialized firms are those that are with you for the entirety of the implementation. They will be official partners with software companies that focus on accompanying you through your digital revolution. These partners are sought out because they go the distance with you: from the initial planning, architecture, and implementation to after-sale service support.
Define system and information architecture
Defining your goals in terms of macro planning is important as to be able to set goals and visualize a linear progression to your digitalization. Solutions comes in many shapes and sizes, such as infrastructures, databases, and overall access. By defining your goals, you're facilitating the understanding of what you want as an outcome and how to efficiently reach them.
Plan and schedule the implementation
Building a plan will typically come in the form of a roadmap or setting up milestones. These milestones are spearheaded by the initial phases of implementation. Integrators will often devise a roadmap, based on what the initial goals are, leading up to your desired outcomes. Projects will be evolutive, starting with granting the ability to extract and contextualize data to track metrics and calculate OEE (Overall Equipment Effectiveness).
The roadmap and milestones will be an asset in following the progression of the integration and anticipating the preparation to consecutive steps. It will also serve as a reference for executives and project managers in setting up the right time to bring up to speed their teams.
Configure the MES application
Configuring the actual MES application is done by an integrator after meeting with executives, department heads, and operation managers. The initial integration will be the contextualization of data, from which customization, adaptations, and more can be implemented. The configuration's goal is to setup an initial and testable version of the solution that will be refined based on progressive feedback. This is also a great opportunity to present ideas for specific ways you want to visualize your acquired data and what comes next.
Test a pilot
As stated, a crucial part of the implementation process is testing the pilot. The pilot will often be a sandbox where the system can be hooked up to virtually test its features and functionalities. This test serves as a milestone to synthesize and see hat work has been done. The pilot further serves as a confirmation of certain implementations, and an open invitation to rediscuss layouts and really get the MES up to your speed based on initials.
Revise, adjust and iterate the initial configuration
Once the pilot is successful, a subsequent discussion is opened with the integration firm as to revisit your impressions and expectations. This review is where your champion can ensure the system is compatible within the team's capabilities. This step is crucial to ensure all of the metrics are programmed properly and included in the dashboard, and to now integrate anything planned in the system.
Training
Training comes once the pilot, and its subsequent edits, are finalized to move towards operators and engineers. This is where your champion shines. While the integrator will typically offer a comprehensive support to the implementation, the champion offers a direct contact within your operation with your expressions and understanding.
Deploy the solution in a first site
Integration often starts with one machine only, but fan out quickly throughout all of your equipment. The goal of this gradual approach is to ensure that the solution integrates seamlessly with your team. The pace picks up quickly, once the first domino falls, the subsequent machines and features are rapidly implemented to the platform until every aspect of the project's goal is met.
Scale the solution
Manufacturing excellence is about digitalization, but also about scaling. Enterprises will rapidly see the ROI of a MES and want to pass to the next steps. This scaling can be starting to expand your array of smart manufacturing capacities by evolving from the initial goal of connecting and collecting one facility: and scaling to a wider range of factories within your enterprise.
Knowing these cumulative steps to integration equip you with the right mindset to approach the implementation of a MES. The evolutive approach to implementation can also ease you in knowing the scalability is not unattainable. PT Digital prides itself in accompanying you through the entire process as a real partner.
Why is a MES implementation plan important?
Planning is crucial to both create an idea of somewhat of a timeline, but also to empower due diligence by envisioning possible hurdles. Every digital transformation is unique, gaining agility and understanding the steps to your digital revolution can mitigate risks, as well as allow for proactive adjustment and tracking progression.
What happens after implementing an MES?
Once the MES is deployed, and your operation gets accustomed to using it, it evolves with you. From a manufacturing perspective, the MES integrates into your daily operations. As a right hand, it empowers your team to digitally access to all of the information they need in real time.  
Continuous support is crucial to ensure the proper function of the implementation. This is where the right integration partner comes in to ensure a smooth integration within your operation.  
The following points will oversee what exactly we mean:
 
Use the MES: As the MES becomes integrated within your operation, it serves as a central part for team members to document all points of interest within their scope of responsibilities. Among other things, operators can assign reasons to downtimes to help contextualize cumulative data; Engineers can utilize and consult the centralized hub for analysis based on real time data and reports. The MES effectively empowers team members to always be updated on what's happening in their vicinity. This transparency allows them to be proactive in ensuring best practice, both in terms of efficiency and safety. 
 
Continuous training and support users: Continuous training is crucial for users to be better suited to use the maximum of the MES' functionalities. As the MES integrates with your operation's day-to-day, it evolves with your team. Put simply, you need to use the MES, to understand how to analyze a type of data, how to fix a bug, and more.
 
Maintain and update the software: Maintaining and updating the software is straightforward. The MES's interconnected nature keeps track of everything that needs to be done to ensure a seamless means of production. Ensuring the equipment offers sharp performance and up to date is necessary to keep an optimal and reliable flow of production.

Updating extends to ensuring that the solution meets your evolving needs; that of storage capacity, hardware performance, and everything that may need software adjustments.  When new versions are released, you an update the system to ensure that you get the greatest benefit while preventing delays.
 
Evolving with your business: As you evolve, the MES proves to be ductile. As your ambitions grow, so will the need to a solution to cater to these new needs. The MES can help support and visualize future endeavors, by guiding you to achieve a greater level of understanding in what successive steps you need to take to upgrade outside of your existing solution. This is where a partner integrator is an asset in discovering, planning, and achieving your smart manufacturing goals. 
How to implement an MES successfully?
Integrating an MES can seem daunting, but in reality, it is a culmination of steps that end up becoming a foundational point for your operation. A project starts with laying out your exact needs with the help of an integration partner. As it evolves, its normal to expect adjustments due to the unique nature of every project.

 
What are the challenges and risks of implementing an MES?
Every integration is unique. Whether an MES is specific to an industry's typical needs, or generic, every project is approached as a means to expand on the realm of possibility. What's important in implementing an MES is knowing that the right expertise is spearheading the project.
 
IT footprint: It's important to acknowledge what the current IT infrastructure can manage. An MES will enable your team members to work with the solution, but you will also require dedicated IT to work in supporting the solution in terms of managing and updating.
 
Find the right partner : Every case needs to be assessed and discussed on an individual-enterprise level. Finding the right integrator is important as they can work with you to find the right solutions. From introductory to large scale projects, it's best to find an integrator that can partner and collaborate with you through your digital transformation.
 
Find the right product: Finding the right product stems from personal-enterprise needs. The right integration partner can help you understand how an MES will tackle the challenges. From the assessments, different solutions can be discussed to find the right fit in terms of cost, accessibility, and focus.
 
Automation level: Depending on your technological level, you may need to inquire bout accompanying systems. PLCs (Programmable Logic Controllers), HMIs (Human Machine Interfaces), etc. are additions that can result in delaying certain aspects of integration. Even with the proper preliminary equipment, there is a due diligence required in integration to ensure everything is connectable under the same hood. 
Why some MES implementation projects can go wrong
Buying a software before you found an integrator: Sometimes it may seem tempting to find a good deal with an official reseller and have your IT take a crack at it. This usually ends in supplemental fees and several delays due to lack of smart manufacturing expertise. The best way to ensure a smooth digitalization, is to have constructive conversations with a dedicated team of certified integrators to know the reality of the depth and scope of the entire project.

Here's our tips to select the right MES for your business.
 
Having no customer support contract: An important realization is thinking about the advantage of having a dedicated support at your disposal. Throughout the implementation process, and after it, customer support contact is a must to quickly deal with any bugs or user experience (UX) concerns that may arise. 
 
Over-customization: Customization can take many shapes. Whether it is branding or specific implementations, an MES can be tailored to your needs. There are, however, limits to consider when it comes to customization as it becomes more difficult to ensure quick adjustments to the software.  
 
The right person at the right time: It's crucial to choose a select few to spearhead as power users or, as we like to call them, champions. A gradual integration is seen as the most effective as the implementation evolves. Often, key players aren't put where they need to be at the right time. It's important to ensure the right key players are where they need to be; for example, not having too many technical people in the definition of the business needs.  
 
Knowledge transfer: Implementation often relies on the power user, or smart-manufacturing champion to be the main point of contact in the talks, but also to be the essence of the knowledge transfer. It's important to plan to have reliable points of contact to mitigate the possibility of complications, or a dependency on waiting for tech support. Knowledge transfer is crucial to ensure a smooth use of the digital ecosystem. By empowering your team, you can greatly reduce the dependency on external IT support.
Tips and best practices for successful MES implementation
Fix your digital transformation long-term vision: Road-mapping is crucial to the long-term vision of the project. Although digitalization could be a long process, its important to know what outcomes you hope to achieve due to the nature of its rapid evolution.

By communicating with an integration partner, you can think big and start small. This communication and expectation setting allows you to grasp the evolution of the project phases and be in control of the outcome. 
 
Have a plan: Having a solid plan can secure confidence in a MES project. By planning for the different steps within the digital evolution, you can mitigate risks and adapt to unforeseen adjustments.
 
Be agile: Digital solutions come with adjustment. It's important to keep an open mind in finding the best solution for challenges that may arise. A roadmap is the ideal plan. While the road may change, you'll get to the destination if you stay agile and flexible.
 
Implement step by step: It's important to pace the project according to what's possible to achieve in a given time. It's normal to have high ambitions for a digital ecosystem, but the best and strongest solutions are gradual. Patience is a virtue, one that empowers you. 
 
Think about a change management plan: The timing on introducing team members to the solutions is just as crucial as finding the right individuals to spearhead it. Its important to note that different levels of technological affinity can be met to ensure a smooth transition. However, you also need to choose strong individuals to lead the implementation.
 
Types of implementation project
Integration can be done in different ways. Technology is very plastic in the sense that it can be molded to specific needs by means of different approaches. Before starting a smart manufacturing project, you'll need to get prepared for integration. This preparation can be in the form of an internal investigation on documenting the current state of technological use and what needs to be updated or addressed in terms of facilitating the integration.
Software infrastructure
You have to also keep in mind that there are different types of project foundations. That is on-premise solutions and hybrid or cloud solutions.
 
On-premise: On-premise systems are solutions that can store all of your data on-site. These types of accommodations will typically be sought out by industries dealing with extremely sensitive information or those who do not need to extend any information whatsoever out of their site. On-premise systems do require a great deal of investment in terms of storage capacity and maintenance beyond the purchase of hardware and servers.
 
Hybrid/Cloud: Cloud-based systems are the opposite of on-premises systems. They are very effective in splicing and organizing data to maximize the use of storage. Hybrid systems are the typical sought out system as they offer the best of both worlds in terms of cost, organization, and security. Data is acquired by an edge-device; however, the MES is hosted on a cloud-service. The cloud infrastructure will need to have a cybersecurity protocol to ensure a low-risk communication between the operation.

Cybersecurity protocols are typically set up by the integrator to render the operation autonomous in its post-implementation security management.
Categories of implementation
Agile digitalization solutions rely on operation flexibility. Solutions can vary depending on the industry, budget, and resources available. Typically, an integrator will adapt to your specific situation to enable the most advantageous outcome. Among the different approaches, three typical implementation strategies are sought out: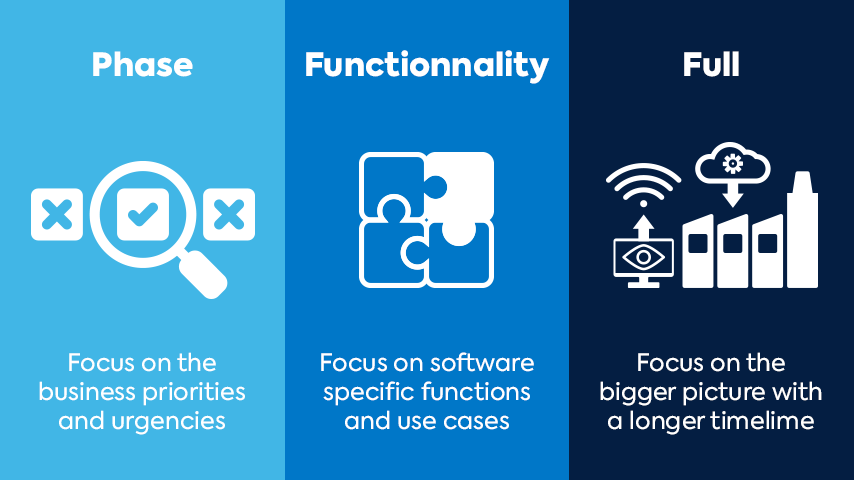 By phase: A phasic approach follows a set of priories to integrate a digital solution. Typically, executives will have discussions with the implementation team to reach a common idea on what is a priority, or urgency, for the manufacturer. From these priorities, specific functionalities, or even parts of functionalities, are chosen as the initial milestones and develop as the project grows.
 
By functionnality: Projects will often be sought out by functionality as a type of planned arrangement, or package. Following a digital logic corresponding to the enterprise's needs and goals, a set of functionalities can be implemented before scaling to larger points of interest. This way opts to deal with issues by means of a gradual approach to reach a goal somewhere down to road, without the need of focusing on a strict end-goal. Projects tend to evolve and as they grow. Put simply, an implementation by functionality grants more agility.
 
Full implementation: Another way to approach the implementation of a MES projects is by planning the scope and depth of the project in its totality. A full implementation entails setting up a roadmap to follow the successive steps to a complete integration. Planning typically is done to accommodate the idea of scaling to a set of manufacturing plants after the successful integration.
 
When is the best time to implement an MES?
While there is no clear time to think about implementing a MES, it typically comes in succession to having started the transition to smart manufacturing. It is then crucial to understand where the MES comes in to support manufacturing processes. Planning comes prior to jumping into the project as a means of proper preparation. This preparation empowers you to start thinking about the bigger picture of a digital revolution on an industrial level. Your competitor has probably already started his digital transition. If you don't want to lose your competitive advantage, it's time to start planning your next move in the smart manufacturing field. 
How long does MES implementation take?
A MES project is typically integrated over the span of months to a couple of years. While the 'steps' can vary in time, they're generally highlighted as the following:
Setting up a business case: Typically, laying out your business-specific needs, finding the core actors, licensor, and integrator could take around 1 year. At this stage, no integrator or software reseller are normally involved since it's an internal business matter.
 
Commercial discussions: Research and commercial discussions can take place for 6 to 12 months in order to ensure the best solution. At this stage, external stakeholders are involved to present and write down offers according to your business case and projects specifications.
 
Planning the hardware: Depending on the integration plan and agreed solution, the hardware can vary in implementation time and cost. Setting up the hardware typically takes 3-8 months depending on its complexity. Depending on your IT department structure, you might need the support of informatic infrastructure services provider to help you achieve this step.
 
Configuration: Typically, configuration is done over 6 months to ensure a gradual integration within the team and manufacturer. Once again, depending of the implementation approach, it might take longer if you're aiming for a full MES implementation.
 
Post-integration: Continuous support and updating are considerations that come after implementation. Those are normally annual contract that you may want to renew every year to maintain and update your MES when needed.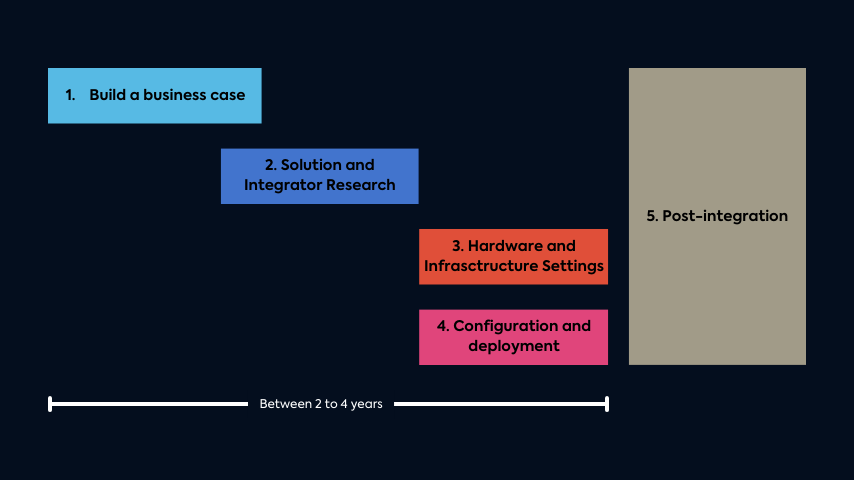 How can you avoid delays?
Avoiding delays is critical to complete a project on time. There are a few focal points to look at to ensure the path of least resistance, such as:
 
Choosing a dedicated team is a great way to ensure a seamless implementation. Having this internal team allows you to have a direct control of the evolution of the project, as well as promoting a positive outcome. 
 
By choosing a champion, a single person can be a point of contact and prevent back and forth between blurred objectives. Setting specific goals increases agility and ensure a smooth progression.  
 
Opting for an integration partner that specializes in smart manufacturing implementation is an asset to projects desiring to go the distance.  
How much does an MES implementation cost?
While there is no clear-cut way to define the exact cost, we can generate an estimate. Like any good solution, you must look at it in steps. It's no surprise that MES come in a well-defined and organized tally.
Service costs are typically organized by type of service, or 'area of expertise'. It's important here to think about the advantages of finding a partner that offers both licensing and integration.
 
Integration will come with a set of fees, like licensing, hardware, and services fees for software configuration and personalization. These fees are typically set by implementation package, or a set agreement.
 
Training equips your team with a strong foundation of the solution. Training a champion mitigates costs by granting you an internal autonomy and control over the gradual full integration.
 
Maintenance is crucial in terms of keeping the systems in optimal shape. The MES bolsters maintenance by signaling what is needed to run efficiently. Annual agreements are typically set to ensure the best firmware and ensure your productivity.
 
Support fees can come in bundles or an hourly rate. It will help clients with troubleshooting, software updating and other actions that will keep the MES efficient and powerful.
 
Learn more about the other MES costs in our MES Complete Guide. 
ROI is often initially calculated in terms of savings. Working with a specialized firm frees up internal IT and save on training and expertise. Proactive maintenance and efficient production results in greater profit margins, especially in terms of loss-prevention. Optimisation is not limited to the direct production sequence. By utilising the best manufacturing tools to empower your operation, you can effectively manage inventory, spend less on resource management and mishaps, among other things.
How to measure the success of an MES implementation?
Team autonomy: The team's autonomy of working with the integrators can impact the success and speed of the implementation. The goal of an MES is rendering a team autonomous in an optimized work setting, where success lies on the solution providing a reliable digital ecosystem.  
 
Process automation level: The goals in terms of level of digitalization can vary depending on the scope of the project. In achieving automation, an MES's goal is to render the data collection and contextualization transparent, as well as empower operators to better control processes through digital work orders.  
 
Resources optimization: A reliable stream of data can be utilized to optimize production sequencing and resources management. Reduction in the mishaps of stockage and usage, and an overall proactive utilization of resources are indications of a successful improvement with a digital ecosystem. 
 
Satisfaction rate: Integrating an MES empowers executives, engineers, and operators. A successful integration lies in the multiple benefits to operational management and improved practice. To get out the most out of the solution it is then crucial to ensure usage and tailoring to feedback and overall satisfaction. 
 
System interconnectivity: A digital ecosystems records and manages all of the data related to the interconnected production. As such a successful implementation can highlight points of interest, recapitulate important data, and ensure a smooth process at all times. A successfully implemented MES acts as the central point of contact to empower the operators with all of the data.  
 
Paperless practice: The gathered data is centralized, allowing for unfaltering data shared in real-time with all of the departments. Paperless practice is a significant advantage when it comes to real-time decision-making. A successfully integrated MES empowers our entire operation to run without a flaw by using the same real-time data. Paperless interconnectivity ensures a minimum of manual intervention to ensure maximum reliability.  
Haven't found the answer to your questions?
Tell us more about your project and we'll arrange personalized consultation session with you
Tell us more about your project and we'll arrange personalized consultation session with you